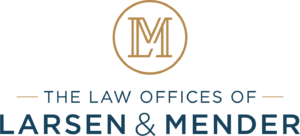 At Larsen and Mender, we understand that the legal system can be complex and intimidating. That's why we're dedicated to providing our clients with the resources and support they need to navigate the system confidently.

We understand the importance of family and we are here to help you in your time of need. We have knowledgeable attorneys who are confident in the courtroom and are not afraid to take your case to trial. We understand legal issues can be devastating, both physically and emotionally, and we are here to help you through this difficult time.

Offering both in-person and virtual options means you can communicate with our attorneys in the way you are most comfortable. This allows us to streamline your case and save you time along the way.
A modern Law Firm
With Your Best Interest At Heart
In a busy world, it's important to be able to have insight to your case at your fingertips. Larsen and Mender provides you with a portal where you can log in and see latest updates, ask questions, and even upload documents directly to our team from the comfort of your own space. 
Looking for Legal Service With Global Quality?